Production and Skilled Trade Careers
We take pride in our work, because our work means our customers are doing great things – feeding and fueling their communities, managing natural resources and connecting others to the necessities of life. The Vermeer equipment you design, build and support helps make our world go.
If you are interested in production or the skilled trades, chances are we have an opportunity that would interest you. We often hire in the following areas:
Modern and clean
In all areas of our business, we strive for the best. Team members are not just a number at Vermeer; you are able to learn, master and be appreciated for your craft. We invest in technology, tools, training and facility improvements that keep us ahead of the competition. No matter what role you work in at Vermeer, you'll be joining a caring culture focused on quality, safety, continuous improvement and customer satisfaction.
Education and training
As a Vermeer welder or painter, you go through an in-depth training program to give you the skills needed for success. Certified trainers work with you in a mix of classroom and hands-on modules which evolve and change in pace and content based on your individual needs. This allows you to get a deeper understanding of your responsibilities, build confidence and enhance your performance.
Vermeer also offers free workshops to every team member so you can use your skills to the fullest. From technical training on machines to leadership skills, Vermeer provides a simple way for you to learn new things. Vermeer also offers tuition assistance to team members for a two- or four-year degree to improve on skills for your current position or prepare yourself for future opportunities.
Assembler
Assemblers at Vermeer take pride in their work, creating quality equipment with the parts they put together. Assembly takes on various formats in manufacturing. At Vermeer, you use impact tools and an understanding of mechanics is required to create powerful equipment. You rely on blueprints, digital instructions and other written or verbal specifications to enable our customers to do great things with the strong equipment you assemble.
Assemblers at Vermeer are equipped to:
Work with your hands
Build projects well
Read blueprints
Find the root cause of problems
Machinist
Machinists at Vermeer take quality and consistency to a whole new level. You set up and operate steel saws, shears and other drilling machines to bend, drill, cut and heat treat the steel needed to make tough yellow iron.
Chip machining specialists operate a CNC mill, lathe or machining center. You are specialized; methodical in your process of setting up the machine and producing parts in a consistent manner.
Plate machining specialists operate presses to bend plates of steel into parts. You are trained to program and set up the machines doing hard work to keep processes moving steadily.
Machining technicians operate large laser tables to cut steel. You are motivated to work hard at a swift pace.
Machinists operate table saws to cut the steel to length, working to efficiently and effectively produce a custom-designed part of product.
Machinists at Vermeer are equipped to:
Work with your hands
Build high-quality projects
Execute math equations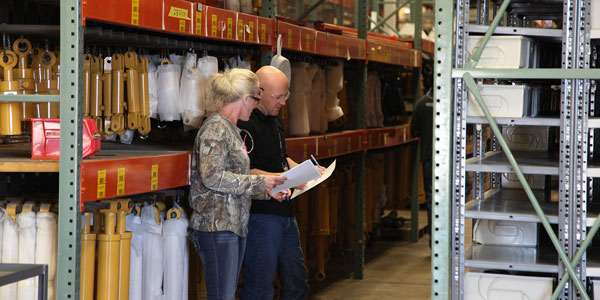 Material handler
Material handlers at Vermeer appreciate working with other team members to store and distribute raw materials and parts throughout the plants. You fill the demand in a proficient, well-organized manner. At times, using forklifts and carts is needed to transport materials. You are responsible for getting the equipment out the door and into the hands of customers who are making a critical impact.
Material handlers at Vermeer are equipped to:
Be active and productive
Organize and assist others
Set and achieve goals
Painter
Painters at Vermeer are responsible for turning raw iron into iconic Vermeer yellow iron. You use high-pressure cleaning tools and an electrostatic wet spray process to put the finishing touches on equipment seen on jobsites throughout the world.
Painters at Vermeer are equipped to:
Create and craft high quality product
Pay attention to detail
Work within a team
Welder
Welders at Vermeer take on the challenge to find a way to get the work done better today than yesterday. You operate welding equipment to join parts of machines with accuracy, precision and a drive to always exceed customer needs. You rely on blueprints and drawings, taking measurements and planning layout procedures. At times, advanced robotics are needed to complete the job.
Welders at Vermeer are equipped to:
Read blueprints
Execute math equations
Create and design a build
Set and achieve goals