Do More:

at work, in life, for others Apply now
Equipped to Do More® at Vermeer
Vermeer Corporation manufactures iconic yellow iron seen on industrial jobsites and farm fields worldwide. Around the world, more than 3,500 Vermeer team members are rolling up their sleeves to design, build and support tough yellow iron. We are steadfast in our commitment to safety, as well as finding, training and developing a workforce built for the future. Our influence is real and felt around the world. Vermeer machines are made to equip our customers to do more across a diverse group of important markets. Proud to be a family-owned and -operated company headquartered in Pella, Iowa, Vermeer serves as a leading example of successful family business. With a strong foundation deeply rooted in our 4P Philosophy of principles, people, product and profit: we put others first, we build quality equipment and we give back.
How to join the team
Insurance

Health, dental, vision and more are available to Vermeer team members as you pick the package that makes the most sense for you and your family.

401(k)

Financial health is important. Take advantage of the Vermeer 401(k) program to prepare for life after your career.

Onsite Clinic & Pharmacy

Feeling your best matters. An onsite clinic and pharmacy is available for you and your families when you need it.

Chaplains

Because mental and emotional health is just as important as physical health. Onsite chaplains are available for conversations, counseling and the ability to connect you to resources you might need when you least expect it.

Yellow Iron Academy

Our STEM-based early learning facility is open to Vermeer kids and kids in the community ranging from ages 6 weeks to 5th grade.

Paid Time Off and Volunteer Time Off

Find your balance between work and life with paid time off you can use for vacation, personal health and well-being needs, unexpected life events and more. Volunteer time off can be used for the cause that matters to you - our team members are making a real impact in the communities where they work and live.
"Every single day, all around the world, customers are putting our designs to the test. Knowing that we are winning is the best part."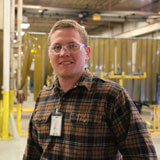 Codie Grunig
Continuous Improvement Manager