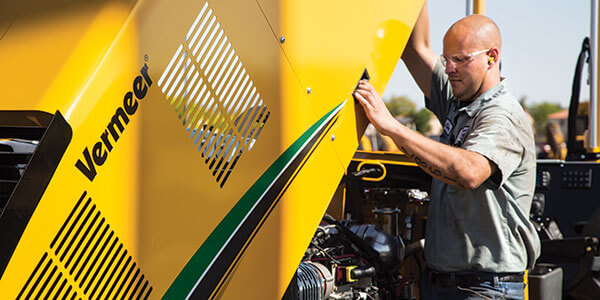 You can expect sound service from Vermeer dealer service technicians when and where you need it most. From our application insight to our confidence at the counter, Vermeer will work to answer your requests with expert care and promptness. We know your machines better than anyone. Dependability matters when machines need service. We take pride in resolving issues the first time, helping you maximize your productivity.
Your Vermeer customer service experience matters to us. We know you want to keep your equipment and your crew running strong. When it comes to parts, your Vermeer dealer will work to get what you need in the least amount of time — because when you need a part, you need it now. Vermeer and local Vermeer dealerships focus on serving your needs quickly, consistently and efficiently. That's the Vermeer way.
Quality service
The Service Technician Certification program from Vermeer is a mark of excellence that sets the Vermeer dealership network apart from the competition. Our technicians can service your machine with expertise, helping optimize performance. Ask your Vermeer dealer about what other makes and models of machines, in addition to those from Vermeer, they service locally.
The extra mile
Contact your Vermeer dealer to learn about local service options. In many locations, Vermeer technicians can come to you in the field with mobile service trucks pre-stocked with popular parts, to save time and provide parts or service on the spot, to help keep you and your equipment running. When it comes to premium service, Vermeer goes the extra mile.
Service & warranty for your equipment