Count on Vermeer dealers to help you access competitive financing options
Wondering what it costs and how to finance a new piece of Vermeer equipment? To learn more about equipment pricing and availability, connect with your local Vermeer dealer.
Need financing on new industrial construction equipment?
In the market for something new? Looking for financing, rather than paying cash on new equipment purchases? Wondering what interest rate and repayment terms are available? Count on Vermeer and its partners for financing options.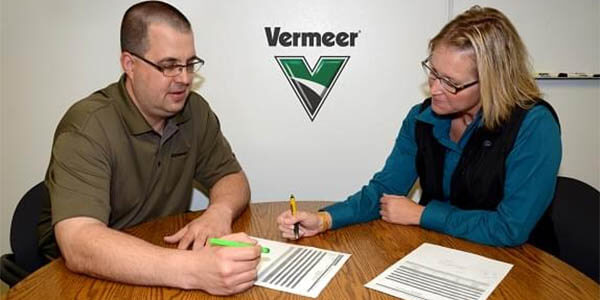 Ask your local Vermeer industrial construction equipment dealer about competitive rates available on many new Vermeer models. Take the hassle out of finding financing with packages available through your local Vermeer dealer.
*Financing available through select Vermeer dealers. Financing rates, terms, conditions and offers may vary by dealership. Check with your local Vermeer dealer for specifics.
Interested in financing a new piece of Vermeer agricultural equipment?
Contact your local Vermeer forage dealer to learn more about financing options on agricultural equipment from Vermeer. Or contact us by phone at 888-301-4106 or by email at [email protected].
Already a customer? Want to pay your Vermeer Credit Corporation invoice online?
Current customers of Vermeer Credit Corporation can pay their invoice online at https://ww2.e-billexpress.com/ebpp/VermeerVCC/