100% satisfaction guaranteed

on the ZR5-1200 self-propelled baler
Get the guarantee
All new ZR5-1200 self-propelled balers retailed between now and Oct. 31, 2023, can take advantage of the 100% customer satisfaction guarantee program with a completed certificate. Customers enrolled in this program may return their ZR5-1200 to its original Vermeer dealership for repurchase within 120 days from the retail sales date if the customer's usage of the unit does not exceed 500 bales and is received in good condition.
Review the official documentation
Connect with a Vermeer dealer
With a robust distribution network across North America, Vermeer relies on independent entrepreneurial dealers to provide our customers with a unique and helpful experience. To sell and service the ZR5-1200 self-propelled baler, Vermeer dealers must complete intensive service training and fulfill parts requirements that help make sure they keep customers running. Vermeer dealers know that your hay operation doesn't quit on Friday or Saturday in the middle of the season. They recognize that customers need to be taken care of when there is work and hay on the line.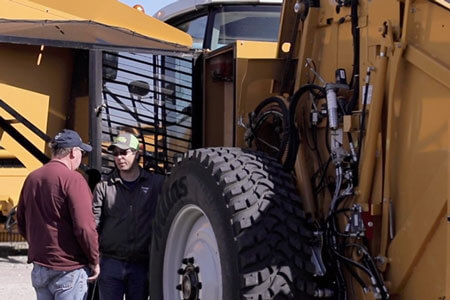 Have a dealer contact me
Take advantage of the customer satisfaction program today.
How Toby Roscoe increased his productivity with the ZR5-1200
In 2017, Vermeer invited a select group of customers who owned Vermeer round balers to attend a sneak-peek event for an upcoming new product. The first-of-its-kind machine was said to be a game changer in the hay and forage industry. And when the ZR5-1200 self-propelled baler drove over the hill, these producers quickly learned how it can forever change the way they put up hay.

"After seeing the ZR5-1200 for the first time, I was hoping someday I would get one," said Toby Roscoe, part owner of Tash & Roscoe Hay Company from Polaris, Montana.
Read more
The verdict is in: see what producers are saying about the ZR5-1200
The first of its kind — the ZR5-1200 self-propelled, zero-turn baler makes quick work of a field while offering an unprecedented level of speed, maneuverability, operator comfort and convenience. Automating parts of the baling process, the ZR5-1200 aims to reduce the number of steps an operator must complete to make a bale. This machine is built tough and specifically designed for one job — baling hay, forage and even cornstalks — unlike tractor-baler combinations. So, you can save your tractors for other jobs. Get ready to let the ZR5-1200 change the way you put up hay.
Read more
Low-rate financing or cash back
In addition to the customer satisfaction program, qualified customers can also receive low-rate financing or cash back on the purchase of a ZR5-1200 self-propelled baler.