Vermeer
Yellow Iron

sales event
You can't buy happiness, but you can buy a new baler
Up to 0% financing for 60 months or up to $6,000 cash back on select new hay tools. Contact your local Vermeer dealer for more details about the special financing on 605 N-series balers, 504 R-series balers, TM1210/TM1410 trailed mowers, BPX9010 bale processor, R2300 and R2800 twin rakes and the one-of-a-kind ZR5-1200 self-propelled baler. Offer ends January 11, 2021.
See all the offers
Connect with a Vermeer dealer
With a robust distribution network across North America, Vermeer relies on independent entrepreneurial dealers to provide our customers with a unique and helpful experience. Vermeer dealers know that your hay operation doesn't quit on Friday or Saturday in the middle of the season. They recognize that customers need to be taken care of when there is work and income on the line.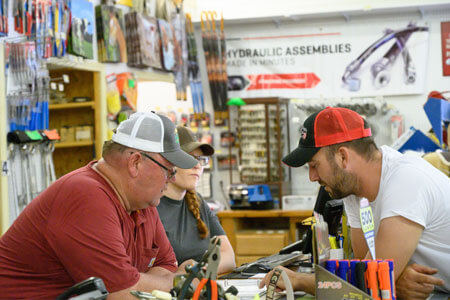 Have a dealer contact me
Take advantage of financing and cash back offers by completing the form to have a local Vermeer dealer contact you.
0% for 60 months

or up to $6,000 cash back on select Vermeer balers

The Vermeer 605N baler brings heavy-duty components for strength and durability in the field when you need it most. Smart features like the available automatic pickup clutch and Auto Lube system help extend machine life. Plus, they're backed by the best distribution network in the industry.
0% for 60 months or up to $2,300 cash back on Vermeer twin rakes
Jerry Kuhbacher has owned a few Vermeer twin rakes in his day, and every time he trades one back his dealer just about meets him dollar for dollar on the original sale price. So when Jerry made the move from 16-ft to 18-ft heads and needed a rake with more capacity, it's no wonder he switched to the Vermeer R2800, which offers 28-ft raking width and 8.5-ft transport.
Complete lineup of hay and forage tools
From the industry's first round baler to the self-propelled round baler, Vermeer has been the leader in the hay and forage industry for nearly 50 years — introducing innovations that change the way you make hay. Vermeer has a versatile lineup of hay tools for every phase of the haymaking process, including mowers, tedders, rakes, bale wrappers and bale processors. If it needs to be done and done well, Vermeer has the right hay and forage tools for the job.
See all the offers