Upgrade to 0% for up to 60 months

or receive an additional $1,000 discount in addition to standard cash-back offers
Two is better than one
Take advantage of quick dry down of your crop with a new Vermeer trailed mower and tedder. From now until April 30, 2021, qualified buyers can get up to 0% for 60 months or receive an additional $1,000 discount on top of standard cash-back offers when purchasing a new Vermeer trailed mower and tedder together. Take advantage of better financing rates when purchasing a trailed mower and tedder together.
Find your dealer
Connect with a Vermeer dealer
With a robust distribution network across North America, Vermeer relies on independent entrepreneurial dealers to provide our customers with a unique and helpful experience. Vermeer dealers know that your hay operation doesn't quit on Friday or Saturday in the middle of the season. They recognize that customers need to be taken care of when there is work and income on the line.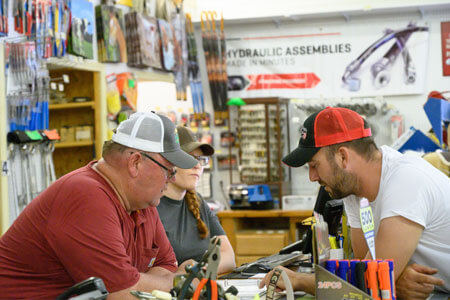 Have a dealer contact me
Take advantage of financing and cash-back offers by completing the form to have a local Vermeer dealer contact you.
Mow like you mean it
Light and efficient, with ease of use and maintenance in mind, Vermeer trailed mowers are the ones you want behind your tractor. Vermeer offers the largest cutting width on the market with the TM1410 trailed mower of 20.8 ft (6.3 m), giving operators the ability to cut more hay in less time when compared to using smaller 3-point mowers. Equipped with a 2-point Quick Hitch hookup, the Vermeer large 10-series trailed mowers are designed with convenience in mind.
Spread the word
Take control of your hay dry down. Tedding has spread across the country as an efficient way to speed up the dry down of hay to help change outcomes in the field. By rethinking the way tedders are used and built, Vermeer designed the new 10-series TE tedders to combine heavy-duty performance, ease of use, transport and maintenance.
Celebrating 50 years of round baling
From the industry's first large round baler to the self-propelled round baler, Vermeer has been the leader in the hay and forage industry for 50 years. With a team carrying a spirit of innovation and a passion for agriculture, we are in continuous pursuit of finding a way to improve our equipment to meet the needs of our customers. We are committed to producers — whether they put up a few hundred, or tens of thousands of round bales to feed their cattle.