The power couple:

Vermeer 605N Cornstalk Special baler + a high-capacity wheel rake
Take advantage today
Take advantage of 0% financing for up to 60 months or up to $5,000 cash back on the 605N Cornstalk Special baler and 0% financing for up to 48 months or $2,000 cash back on a VR1428/VR2040 high-capacity wheel rake.
Connect with a Vermeer dealer
With a robust distribution network across North America, Vermeer relies on independent entrepreneurial dealers to provide our customers with a unique and helpful experience. Vermeer dealers know that your hay operation doesn't quit on Friday or Saturday in the middle of the season. They recognize that customers need to be taken care of when there is work and income on the line.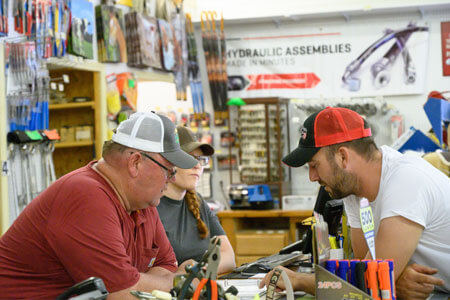 Have a dealer contact me
Take advantage of financing and cash-back offers by completing the form to have a local Vermeer dealer contact you.
Make high-quality hay, the Vermeer way
Cornstalk baling is a tough task, so operators in the livestock and biomass industries turn to this tandem for its combination of productivity and operating efficiency. The VR1428/VR2040 high-capacity wheel rakes can cover more acres in less time and the Vermeer 605N Cornstalk Special baler finishes the job. Together they deliver the performance and toughness needed to help overcome the harsh conditions of cornstalk baling. Time to team up with the perfect pair.
Serious flexibility
The VR1428 and VR2040 high-capacity wheel rakes from Vermeer are built tough to handle heavy crops efficiently – with ease of maintenance in mind. The option of a unique center splitter lets you cover the entire swath. Plus, hydraulic suspension on each wheel and a select frame design provide serious flexibility in the field. Flex some serious muscle this haying season.
Durability redefined
The Vermeer 605N baler brings heavy-duty components for strength and durability in the field when you need it most. Smart features like the available automatic pickup clutch and Auto Lube system help extend machine life. Plus, they're backed by the best distribution network in the industry.