1.9% financing for up to 36 months

on vertical mixers
Take advantage today
Now through Oct. 31, 2023, qualified buyers can receive 1.9% financing for up to 36 months or cash back on the purchase of vertical mixers or feed wagons.
Connect with a Vermeer dealer
With a robust distribution network across North America, Vermeer relies on independent entrepreneurial dealers to provide our customers with a unique and helpful experience. Vermeer dealers know that your hay operation doesn't quit on Friday or Saturday in the middle of the season. They recognize that customers need to be taken care of when there is work and income on the line.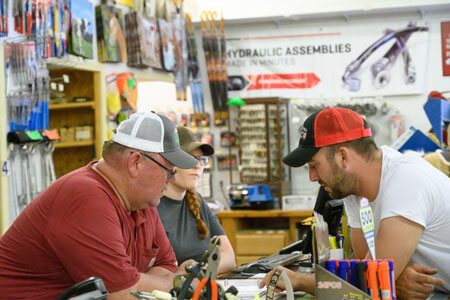 Have a dealer contact me
Take advantage of financing and cash back offers by completing the form to have a local Vermeer dealer contact you.
Every bite mixed
right
Vermeer twin-screw vertical mixers are equipped with an overlapping screw design that works directly with offset baffles to move feedstuff from one chamber to the other. The result? A consistent mix and even distribution into the bunk. With multiple sizes available, the Vermeer lineup of vertical mixers gives operators the opportunity to find the mixer that best fits their operation.
Rex Tilton does MORE with his vertical mixer
For Rex Tilton, a third-generation producer from Anderson, Missouri, providing the finest Angus beef is his number one goal. Feeding round bales out of a hay ring was working fine – that is, until he realized how much hay he was wasting. Since purchasing the Vermeer VS510 single-screw vertical mixer, he not only has saved on feed costs by being able to weigh and measure each component going into his mix, but he's been able to be MORE flexible on what ingredients he uses. That's how Rex Tilton does MORE with the Vermeer VS510 single-screw vertical mixer.