$0 down, 0% interest* and 0 payments

until February 1, 2021 or up to $1250 cash back on the BPX9010 bale processor
Take advantage today
The BPX9010 bale processor is ready to bring simplicity, durability and versatility to your farm or ranch. It's ready to distribute uniform windrows along bunk lines or out in the pasture and spread bedding with consistency and accuracy at ranges up to 50 ft (15.2 m). It's ready to process bales. Are you? Now through October 31, 2020, qualified buyers can take advantage of $0 down, 0% interest * and 0 payments due until February 1, 2021 or $1,250 cash back on the purchase of a BPX9010 bale processor from Vermeer.
Learn more
Connect with a Vermeer dealer
With a robust distribution network across North America, Vermeer relies on independent entrepreneurial dealers to provide our customers with a unique and helpful experience. Vermeer dealers know that your hay operation doesn't quit on Friday or Saturday in the middle of the season. They recognize that customers need to be taken care of when there is work on the line.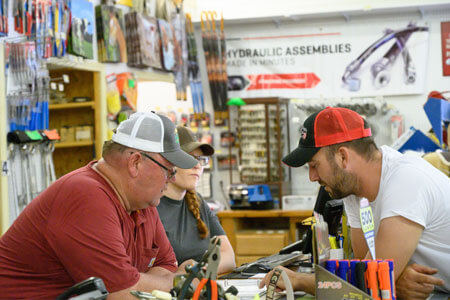 Have a dealer contact me
Take advantage of financing and cash-back offers by completing the form to have a local Vermeer dealer contact you.
Simple process.
Tough processor.
Simplicity: Load, operate and maintain it with ease. Go to the field ready to process bales smoothly and consistently.
Durability: Maximize productivity and help prolong machine life with this robust, heavy-duty, reliable bale processor.
Versatility: Process round or large square bales of varying qualities and distribute material where and how you want it.
Learn more
Simplicity + productivity = time savings
After several years of running an older bale processor, Brad Pollema knew it was time to switch to the next best thing — the Vermeer BPX9010 bale processor. It's all about simplicity and saving time. The evidence? Pollema can process dry cornstalk bales in 20 seconds and distribute material evenly with the BPX9010.
Hear Brad's story
The part that matters: experts with passion
Vermeer dealers and parts team members are dedicated to providing quality parts and service. Not only are they working to provide you the quality you deserve while they're at work – many of them also use Vermeer equipment when they go home in their own operation. They are passionate about agriculture, especially when it comes to making high-quality hay for the nation's farmers and ranchers, and they understand you need quality parts to do so. That's the part that matters.
Learn more