0% financing for up to 48 months

or cash back on select models
Take advantage today
Now through Mar. 31, 2022, qualified buyers can receive 0% interest for up to 48 months or cash back on the purchase of select new Vermeer forage equipment including large and small trailed mowers and large wheel rakes among other models.
Connect with a Vermeer dealer
With a robust distribution network across North America, Vermeer relies on independent entrepreneurial dealers to provide our customers with a unique and helpful experience. Vermeer dealers know that your hay operation doesn't quit on Friday or Saturday in the middle of the season. They recognize that customers need to be taken care of when there is work and income on the line.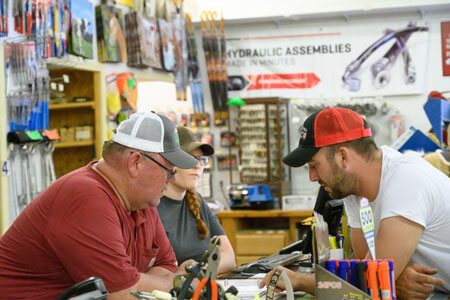 Have a dealer contact me
Take advantage of financing and cash back offers by completing the form to have a local Vermeer dealer contact you.
Wide cutting width, narrow transport
Light and efficient, with ease of use and maintenance in mind, Vermeer trailed mowers are the ones you want behind your tractor. Vermeer offers the largest cutting width on the market with the TM1410 trailed mower of 20.8 ft (6.3 m), giving operators the ability to cut more hay in less time when compared to using smaller 3-point mowers. Equipped with a 2-point Quick Hitch hookup, the Vermeer large 10-series trailed mowers are designed with convenience in mind.
Up to $1,000 cash back on the TE3310 tedder
Take control of your hay dry down. Tedding has spread across the country as an efficient way to speed up the dry down of hay to help change outcomes in the field. By rethinking the way tedders are used and built, Vermeer designed the new 10-series TE tedders to combine heavy-duty performance, ease of use, transport and maintenance.
0% for up to 48 months on small trailed mowers
Meet the TM610/TM710/TM810 small trailed mowers, the simplistic option for mowing. The hookup procedure is straightforward; after the hitch, PTO and hydraulics are connected it's ready to go to the field. Toolless adjustments allow users to set the suspension between fields and the Quick-Clip® blade retention system lives up to its name making reversing or replacing blades.