0% financing for up to 48 months

or cash back on select models
Take advantage today
Now through June 30, 2022, qualified buyers can receive 0% interest for up to 48 months or cash back on the purchase of select new Vermeer forage equipment including large trailed mowers and large wheel rakes among other models.
Where hay and forage come first
At other agricultural dealerships, hay and forage tools are often an afterthought. But it's all we think about. Your local Vermeer hay and forage dealer is 100% committed to this industry and to helping you do more. "Here we take care of our customers, no matter what it takes," says Bret Julian, director of sales, Forage Solutions.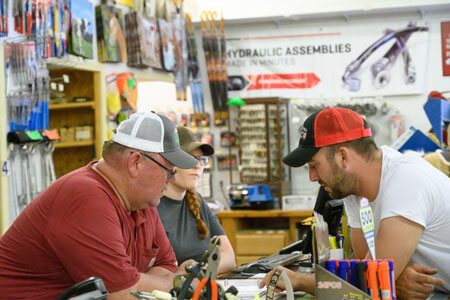 Have a dealer contact me
Take advantage of financing and cash back offers by completing the form to have a local Vermeer dealer contact you.
Cut more hay in
less time
Light and efficient, with ease of use and maintenance in mind, Vermeer trailed mowers are the ones you want behind your tractor. Vermeer offers the largest cutting width on the market with the TM1410 trailed mower of 20.8 ft (6.3 m), giving operators the ability to cut more hay in less time when compared to using smaller 3-point mowers. Equipped with a 2-point Quick Hitch hookup, the Vermeer large 10-series trailed mowers are designed with convenience in mind.
0% for up to 48 months on high-capacity wheel rakes
Cover MORE acres in less time — and with minimal maintenance — with a Vermeer high-capacity wheel rake. Capable of raking up to 28 ft (8.5 m) or 40 ft (12.2 m) respectfully, the VR1428 and VR2040 high-capacity wheel rakes are designed for speed and maximized productivity. The combination of rugged construction, smart, streamlined design and functionality with simple, tool-free adjustments make these rakes what operators need at the height of hay season.