0% financing for up to 60 months

or cash back on select models
Take advantage today
Now, through October 31, 2020 qualified buyers can receive 0% interest for up to 60 months, 1.9% for up to 72 months or cash back on the purchase of select new Vermeer forage equipment including 605N balers, 605N Cornstalk Special balers, 604 R-series balers and 50-series disc mowers among other models.
See products
Connect with a Vermeer dealer
With a robust distribution network across North America, Vermeer relies on independent entrepreneurial dealers to provide our customer with a unique and helpful experience. Vermeer dealers know that your hay operation doesn't quit on Friday or Saturday in the middle of the season. They recognize that customers need to be taken care of when there is work and income on the line.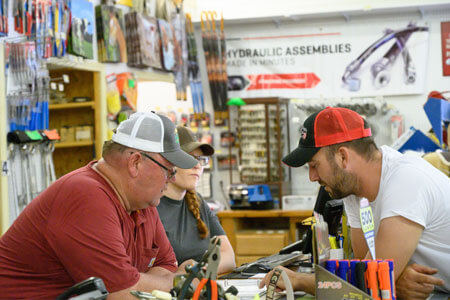 Have a dealer contact me
Take advantage of financing and cash back offers by completing the form to have a local Vermeer dealer contact you.
10,000 bales later...
Dan Shamburg switched to the Vermeer 605N Cornstalk Special baler and did not break a single tine in 10,000 bales. Think of all the time he's saved by making the switch to Vermeer. Here's what he's saying about his experience with his baler.
Hear Dan's full story
604 R-series balers offer versatility for various types of hay producers
Most forage producers share the same goal: produce consistent, high-quality bales. But there's no perfect one-size-fits-all baler that will fit every producer's needs; some want simplicity and ease-of-use while others demand smart features, high speed and maximum output.
Read more
Which rake makes the best windrow?
Good, consistent bale appearance starts with the windrow, often produced by the rake. It is important to keep the windrow dispersed evenly across the bale chamber in order to get a good-looking product when the bale is ejected. But which rake makes the best one? The twin basket rake might be the answer to that question.
Read more