Solar Installation Solutions
Be equipped from prep to connect for the installation of solar power infrastructure
As the solar energy industry continues its rapid growth worldwide, Vermeer equips you with specialized machines and support solutions — including an extensive dealer network — for solar farm installation work.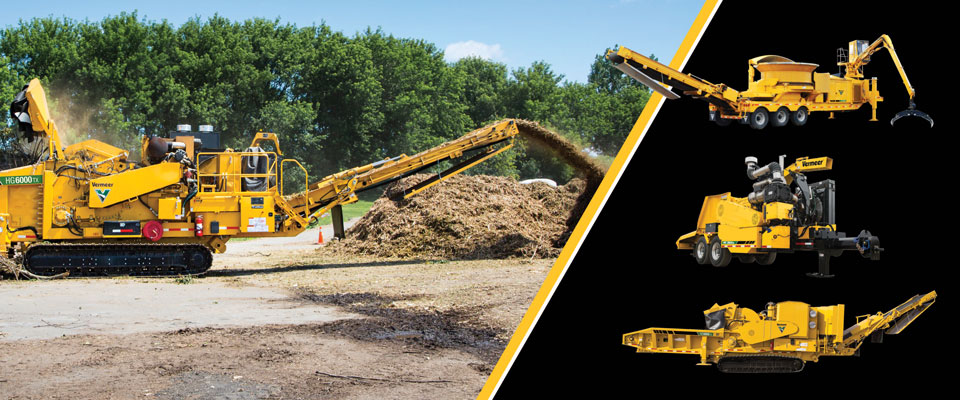 Clearing the way for solar power
Clearing the land to make way for a new solar farm can be quite the process of removing trees, stumps, brush and other objects that may prohibit the land from being used to create alternative energy. For this type of work, Vermeer offers a complete lineup of wood processing equipment.
Vermeer tub grinders are designed to handle stumps, regrind and high-volume wood recycling and mulch operations.
If trees need to be removed, Vermeer whole tree chippers offer you a mobile, maneuverable, whole-tree solution to chip wood efficiently.
Vermeer horizontal grinders are designed to tackle large-scale land-clearing, right-of-way and composting projects, and are built to power through tough materials.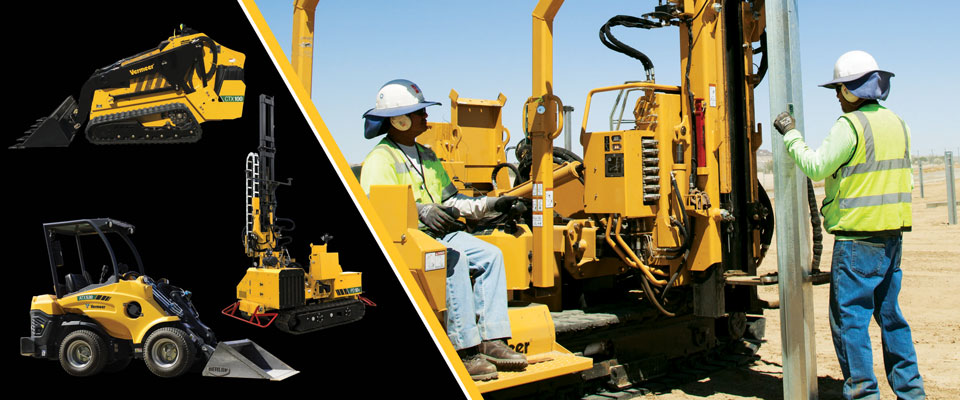 Driving the solar farm installation process
Constructing the actual solar panels is a multi-step process: First, the piles need to be laid and driven into the ground. Second, the racking needs to be assembled to the piles. And finally, the solar panels can be installed on the racking. Precision and efficiency are extremely important in the equipment installation phase, and Vermeer installation equipment meets the challenges of these jobsites.
Vermeer pile drivers are engineered with specialty features like GPS and the capability to auto plumb so you can move from pile to pile accurately and efficiently.
Vermeer mini skid steers and compact articulated loaders (ATX) are a "jack of all trades" tool to have onsite, thanks to their compact maneuverability and material handling capabilities. With Vermeer mini skid steers and ATX machines, crews can efficiently spread out the rackings and begin bolting them together, completing the rest of the equipment installation steps needed to get the solar panels ready for operation.

Solar means more utility
Utility installation is critical to the development of solar farm installations. To link these new sites to the nearest overhead and underground electrical grids, you need to be able to work in rural, remote areas and in a range of ground conditions — from hard rock to clay to cobble. Vermeer offers a full range of utility installation equipment.
Bringing more to site management
During the construction process, an incredible amount of wood waste, particularly from equipment pallets, is created, which then needs to be cleaned up and managed. A considerable amount of equipment muscle is required to handle processing and recycling the organic waste into useable material.
Vermeer tub grinders are loaded with innovative features to help improve efficiency during wood waste recycling and mulch production.
Vermeer horizontal grinders are offered in a variety of configurations to efficiently process logs and other organic materials into valuable end products.
Once the mulch is produced, Vermeer mini skid steers and ATX machines can be used to spread bedding underneath the solar panels, helping with erosion control and contributing to the farm's green efforts by reusing woody materials for landscaping. If not used for landscaping, the mulch materials could also be hauled away for disposal.
I want to know more
To receive more information about Vermeer solar installation equipment solutions, fill out the form below.
Read more about solar installation