Horizontal and Tub Grinder Parts and Accessories
Grinder screens   Duplex drums   Grinder tips
Turning waste into a useful byproduct requires innovative solutions and machinery like Vermeer horizontal grinders and tub grinders. These machines endure some of the toughest jobsite conditions. It's essential on the jobsite to have quality replacement wear parts for your grinder at all times — that's why Vermeer offers several different replacement options for popular machines. Whether it is grinder tips, screens or drums, we have what you need.
Grinder screens
Vermeer boasts an exclusive in-house grinder screen manufacturing process to help maximize the performance of customers' horizontal and tub grinders. Screen styles are available in a variety of sizes making it convenient to find the right fit for optimum productivity and product consistency.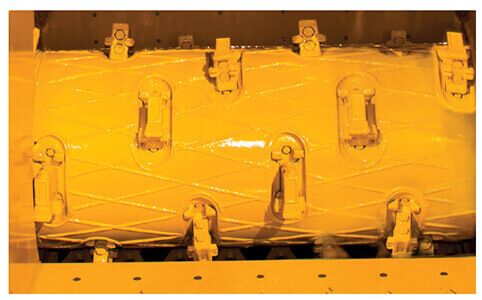 Series III duplex drums
Our newly patented Series III duplex drum design features reversible hammers and cutter tips for ease of maintenance and can extend wear life. The Series III is built off the proven cutting performance of previous Vermeer duplex drum designs and makes maintenance more convenient.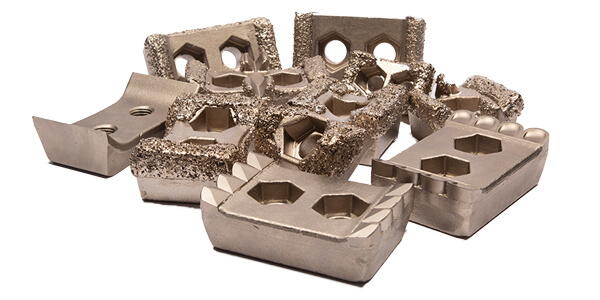 Grinder tips
With high carbide coverage and eight different styles, Vermeer grinders are built to last while tackling tough jobsites. Paired with a Vermeer horizontal grinder or tub grinder, you can get the most out of your grinder tips and machine productivity, while minimizing the frequency of changing tips.
Carbide coverage
Max — The max grinder tips have the maximum amount of carbide, resulting in a long-lasting, durable weld joint. This helps extend the longevity of Vermeer carbide grit tips.
Premium — The premium grinder tips feature additional welds on the ends and a single weld on the sides, providing a premium lifespan experience.
Pro — The pro grinder tips have both ends and sides welded to provide the standard life span you've come to expect.
Download the application guide
Grinder tip styles
Wide block tips
Wide block tips are the most common in the industry. They can be used in a variety of applications such as land clearing, regrind, pallets, compost and green waste. Wide block tips can be flipped for extended life.
Abrasion-resistant tips
Abrasion-resistant (A/R) tips are used when highly abrasive material is being processed. Their flat face design, infused with tungsten carbide crystals in the casting block, is best suited for applications that contain sand, dirt and other highly abrasive materials. A/R tips can be flipped for extended life.
Wing tips
Wing tips have a unique design with an overlay of carbide that provides an effective solution for processing large-diameter woody material — a narrow center section helps the tip penetrate the log, then the wings clean out the remainder. Wing tips can be flipped for extended life.
Impact-resistant tips
Impact-resistant (I/R) tips offer an alternative to wing tips and are used to process large-diameter material. Their carbide inserts are very hard and are not recommended for use when contamination or rocks are present. I/R tips can be flipped for extended life.
Narrow block tips
Narrow block tips only in the standard configuration are available for tub grinders and select horizontal grinders. They have an overlay of carbide along the sides of the block, making them an effective solution for processing large-diameter woody material. Narrow block tips can be flipped for extended life.
Sharp tips
Sharp tips are precisely designed for cutting. They are most commonly used on large-diameter wood for maximized production and low amount of fines. With a sharp leading edge, these tips are not recommended for high contamination. Sharp tips can be flipped for extended life.
Wedge tips
Wedge tips are designed with a layer of carbide to effectively process large-diameter wood material with the Vermeer TG5000 tub grinder. The raised center allows the tip to aggressively penetrate the log. Wedge tips can be flipped for extended life.
Looking for a specific part or need more information? Complete the form below to be connected to your local dealer.