PELLA, Iowa / Sep 2, 2021
Join Vermeer Corporation for a community open house of the new Plant 7 facility Saturday, Sept. 11, from 10 a.m. - 2 p.m.
Following the loss of more than 400,000 square feet of manufacturing space during the EF3 tornado that hit Vermeer Corporation on July 19, 2018, President and CEO Jason Andringa promised we'd rebuild and that we'd come back stronger than ever. We knew we couldn't waste this crisis. We took the opportunity to look at our manufacturing facilities and processes with a clean slate. Not only did we decide to rebuild, but we decided to grow and expand upon the facilities lost.
Join Vermeer Corporation for a community open house of the new Plant 7 facility Saturday, Sept. 11, from 10 a.m. - 2 p.m.
Experience the nearly 500,000 square feet of added manufacturing space, including 100,000 square feet specifically for painting our machines their iconic yellow color. See the natural light shining in through more than 120 windows. Learn about the air diffuser system – designed in-house and patent-pending – not only cools the air, but also pushes used air out of the building to be cleaned and reused, providing a comfortable place to work with air filtered of weld smoke and other air pollutants.
Improvements weren't only made in the general environment; we built improvements into each of our manufacturing disciplines, as well. In the paint area, each of our three paint booths is nearly 15 feet longer than our other paint booths on the Mile, offering a large, comfortable space and ample time to work around the parts. At the unload and loading station, the line pauses to allow team members to safely unload and load parts from the line.
A major emphasis has been placed on getting team members the resources they need where they need them. One example can be seen on our assembly lines where fluids like oil, gas, hydraulic fluid and more are available at pumps on the line where team members need them most. This means our team will spend less time searching for what they need and more time doing what they do best - building yellow iron.
There are also three large break areas in the production areas of Plant 7. Each is equipped with a micro market, which offers fast, convenient, fresh and healthy options for purchase on break or lunch with a simple scan of a badge or fingerprint. These break rooms offer a fully air-conditioned, brightly lit space for team members to eat and gather over breaks. Nearby are locker areas for team members to stash their belongings away from the hustle of the shop floor.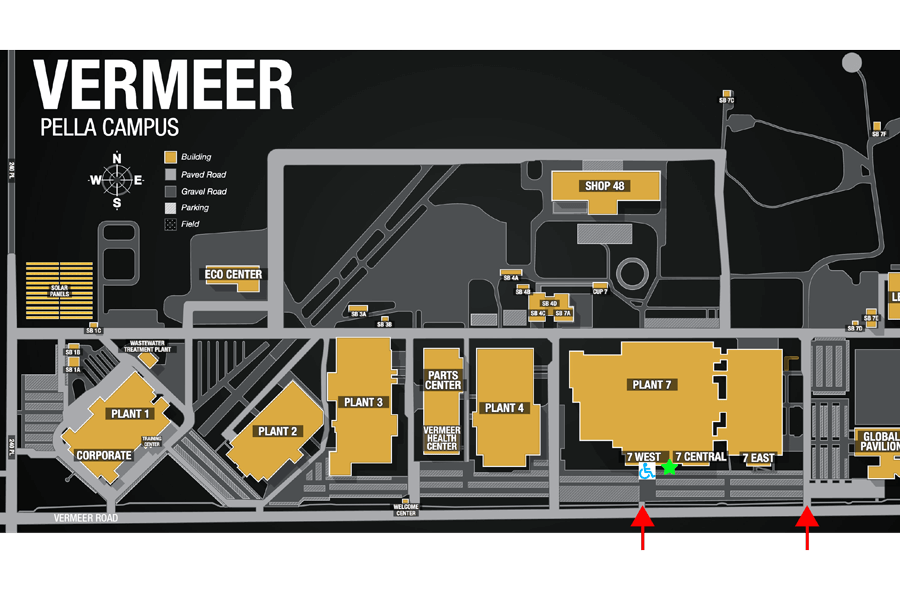 Health and safety protocols
Our top priority is the health and safety of our team members and guests. We encourage visitors to wear masks while inside our facility. If you are exhibiting symptoms of any illness, please do not attend this event. While no production will be happening during the open house, we ask that you please wear close-toed shoes. We will have a limited number of wheelchairs available for those who may need on a first-come, first-served basis.
Entrance and parking details
Please enter the Vermeer Mile campus from Vermeer Road and park in the south parking lots in front of Plant 7 – 1910 Vermeer Road East, Pella, IA 50219. Please enter the facility near the green star on the map pictured. This is door 7-25 (indicated by signage outside) and follow the signage into the manufacturing floor. This entrance is not wheelchair accessible. Please use door 7-24 (indicated by signage outside), if needed. All other facilities and doors are closed to the public.
About Vermeer Corporation
Vermeer Corporation manufactures iconic yellow iron seen on industrial jobsites and farm fields worldwide. Around the world, more than 3,800 Vermeer team members are rolling up their sleeves to design, build and support tough yellow iron. We are steadfast in our commitment to safety, as well as finding, training and developing a workforce built for the future. Our influence is real and felt around the world. Vermeer machines are made to equip our customers to do more across a diverse group of important markets. Proud to be a family-owned and -operated company headquartered in Pella, Iowa, Vermeer serves as a leading example of successful family business. With a strong foundation deeply rooted in our 4P Philosophy of principles, people, product and profit: we put others first, we build quality equipment and we give back.