PELLA, Iowa / Jan 11, 2023
Vermeer Northwest and Vermeer Mountain West are joining forces!
At the end of 2022, Vermeer Northwest merged with and took the name of Vermeer Mountain West. Combining these two adjacent Vermeer dealership groups creates a contiguous network of 13 locations spanning much of the western United States. By joining forces, both dealership groups will bring equipment expertise and market knowledge to their combined region. Leadership from both dealership groups will continue to be engaged in the business.
In 1990, Doug and Jaci Terpstra left Vermeer Corporation in Pella, Iowa, and founded Vermeer Northwest. Fourteen years later, Tim Weaver joined the business and eventually purchased the successful dealership from Doug, his father-in-law. Along with his veteran team of leaders, he continued to develop Vermeer Northwest's rich 33-year legacy of customer service.
Through this merger, Tim has accepted the role of vice president of sales with direct oversight in leading commercialization efforts in the states of Washington and Alaska. Tim joins the senior leadership team of Vermeer Mountain West. He and his wife, Johanna, are also now significant shareholders in the Vermeer Mountain West organization.
Kyle Pieratt will continue to lead as the president and CEO of Vermeer Mountain West. Kyle shares, "We are excited to continue to build out the Vermeer Mountain West brand as we strive to deliver excellence for our customers. This merger continues to leverage our ability to scale customer service, inventories and long-term career pathing for our team members, in the fast pace and growing markets we serve. Similar to the customers and suppliers, competing at scale continues to be a vital part to sustainability well into the foreseeable future. We are committed to this journey with our customers and team members!"
Vermeer Mountain West will be headquartered in Chandler, Arizona. There will also be branch locations in Tucson (Arizona), Las Vegas (Nevada), Albuquerque (New Mexico), El Paso (Texas), Salt Lake City (Utah), Boise (Idaho), Billings (Montana), Missoula (Montana), Spokane (Washington), Tacoma (Washington), Marysville (Washington) and Anchorage (Alaska).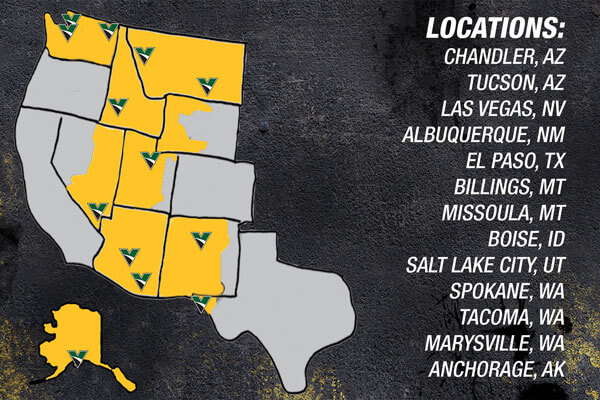 About Vermeer Mountain West
Vermeer Mountain West carries a full line of Vermeer industrial equipment and has been a Vermeer dealer since 1989. They support Vermeer products with a dedicated, factory-trained sales staff, an extensive genuine parts inventory, experienced service technicians and top-notch service facilities. With over 33 years of experience supplying industrial equipment that can stand up to the most diverse and toughest working conditions, they are equipped to deliver the Vermeer brand promise. With conveniently located service centers and a fleet of fully equipped service trucks, Vermeer Mountain West can service equipment anywhere in the mountain west region. Their motto is "Our people make the impossible…possible!" They have built a lasting culture around the customer experience and customer service. To learn more about Vermeer Mountain West, visit www.vermeermountainwest.com.
About Vermeer
Vermeer delivers a real impact on the way important work gets done through the manufacture of high-quality underground construction, surface mining, tree care, environmental and agricultural equipment. With a reputation for being built tough and built in a better way, Vermeer equipment is backed by localized customer service and support provided by independent dealers around the world. To learn more about Vermeer, products, the dealer network and financing options, visit vermeer.com.
Please contact your local Vermeer dealer for more information on machine specifications.