PELLA, Iowa / Dec 13, 2021
Vermeer team members on first, second and third shift came together over the course of a week to help out a team member in need.
Tooling Technician Andy Lettington has cancer and was looking to make improvements to his home in Eddyville, Iowa. However, there was a lot of work to be done. That's where the Vermeer team came in, offering to help meet their goal of completing the housework by the end of October.
Over the course of two weeks, team members on all shifts worked to get outside roofing, siding, dirt work and deck work done. The team built a deck out in front of the house with a ramp, and when they had extra time, decided to add an additional deck around the side of the house. Inside, team members added insulation, put up Sheetrock and completed mudding, and laid flooring down. The third shift group did a majority of the flooring work and stayed until they had finished the job, even though it took longer than they originally committed. In addition to time spent working on volunteer time off, many team members came out on their free time to help out. Thanks to all of these team members coming together, Andy now has a comfortable place to relax.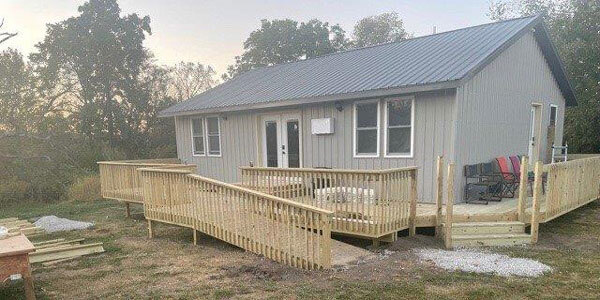 "There was an amazing amount of work done on my house in a short amount of time. My wife and I can't thank Vermeer and their team members enough for all the work that was completed," shared Lettington. "We are truly blessed to work for a company that cares for their employees!"
Vermeer team members support each other. When the going gets tough, you know you have a team behind you — at work and in life. Thank you to the team members who volunteered their time to make this project a reality.