Working for a Vermeer dealership is bigger than just a job. As the face of the Vermeer brand, dealers extend Vermeer through a network found throughout the nation and around the world. With a passion to serve and the expertise to do it, Vermeer dealerships keep customers doing more every day.
At a Vermeer dealership, you are able to support customers with tough yellow iron while you continue on a successful career path. You do this knowing that what you do helps customers feeding and fueling their communities, managing natural resources and connecting people to the necessities of life.
Important work
Our dealers have a clear vision and a strong plan for growth. The work you do is exciting, challenging and purposeful. Your important work impacts your community and the world. You work to instill confidence as you assist customers in finding solutions to their business needs.
Grow and develop
At a Vermeer dealership, you will have endless training opportunities. Whether you have a role in sales, parts, service, leadership or beyond, a robust training system is in place to give you the tools to succeed. The tailored curriculum and hands-on training allows you to become an expert in your field or build skills across many parts of the business. These training opportunities are encouraged, allowing you to learn and add skills to your toolkit.
World-class facilities
Gone are the days of messy shop floors and small disorganized workstations. Vermeer dealers have invested in their facilities to offer customers the best environment and service possible. In doing so, team members at dealerships are reaping the benefits of new, clean workspaces with up-to-date technology.
If you are interested in a career at a Vermeer dealership, chances are they have an opportunity that would interest you. Vermeer dealers often hire in the following areas: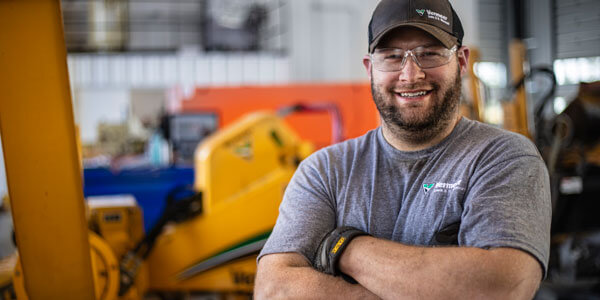 Service
For service technicians, field service technicians and service managers, it's all about hard work, dedication and perseverance. Know how to diagnose a problem? Want to make sure the equipment gets and stays fixed? This is your opportunity to troubleshoot and repair agricultural and industrial equipment that makes a real impact.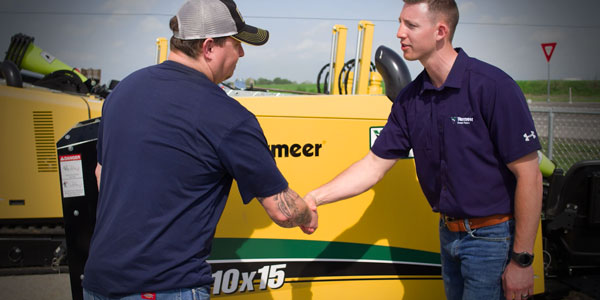 Sales
Selling is a talent and a skill. Vermeer makes strong, quality equipment for customers who are driven to get things done and are motivated to find success. If you've got the dedication and the desire, you'll learn what your customers need and provide them with the best solutions to get their tough work done.
Parts
Identifying customers' needs make all the difference for parts specialists and parts managers. Your ability to respond to those needs with knowledge and a passion for Vermeer equipment drives your success.
Additional careers
There are no limits to your job opportunities at a Vermeer dealership. Your talents, hard work and commitment play a role in your accomplishments throughout a variety of different roles outside of service, sales and parts. Whether you are a recent graduate or have years of experience, great career opportunities are available. Find a Vermeer dealership near you and view open positions to determine which role sets you up for future success.