Vermeer Vertical Mixers and Feed Wagons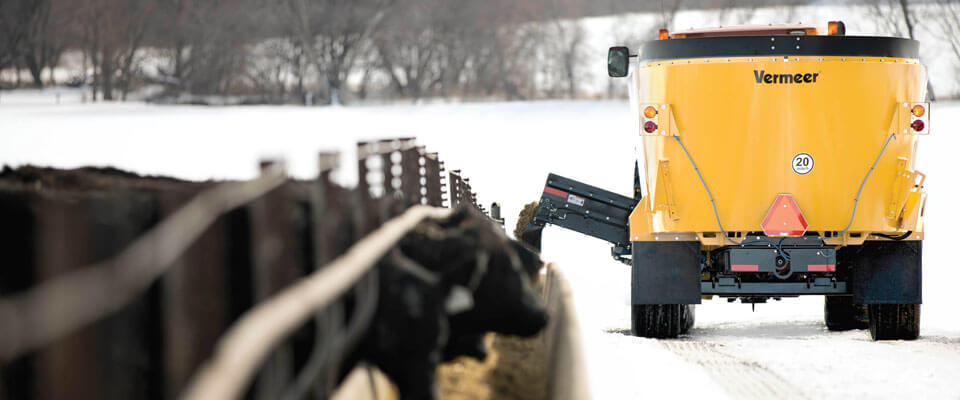 Optimize feeding
Profit margins are usually tight for cattle producers. They're even tighter if you're not maximizing your herd's time at the bunk with maximum nutrition and minimal feed waste. A combination of attention to your cattle feed ingredients and how you're distributing them to your herd can make a major difference in overall feed costs when compared to free-choice feeding, which is typically the greatest expense for most cattle producers. A vertical feed mixer may be part of the feed cost equation for your operation.
It just makes cents.
"With what we overfeed by free-feeding and what's wasted in a traditional scenario, we're talking about an additional cost just shy of $130 per cow for the 150-day feeding period," Tyler Long, Purina nutritionist and cow-calf owner, said. "If we apply that to harvested forage acres, we're wasting about 1/5 of an acre if free-choice feeding versus meter feeding over 150 days. Add up other waste from free feeding — like when cows pull hay out of a ring, drop it and step on it — and it equates to just under half an acre per cow from waste and overfeeding. Sure, it's only half an acre, but if you have 100 cows standing around, you have 50 acres worth of production standing around idle, doing nothing."
See vertical mixers            View feed wagons
Ready to optimize your feeding?
Vermeer relies on independent entrepreneurial dealers to provide our customers with a unique and helpful experience. Vermeer dealers know that your operation doesn't quit on a Friday or Saturday. They recognize that customers need to be taken care of when there is work on the line.
Meet the lineup
With multiple sizes available, the Vermeer lineup of feed wagons and vertical feed mixers gives operators the option to blend or mix all ration ingredients like dry hay, silage, grain and ethanol co-products at once. The result is a consistent ration every time the operator feeds cattle.
Vertical mixers
Vermeer vertical mixers are built to enhance feeding routines for producers looking to optimize ration costs and help reduce feed waste. These mixers create a consistent and thorough ration with a variety of feedstuffs due to a proven mixer tub and screw design. Available in a range of capacities, these vertical mixers can handle a wide assortment of feedstuffs.
Strategic design
These machines are a testament to logical, practical engineering. Overlapping screws and offset baffles on the tub wall help to achieve a consistent, thorough mix. Instead of feedstuffs remaining in either the front or the back of the tub, the construction of the tub and screws encourages the material to travel between the screws in a clockwise motion.
Accuracy achieved
Vermeer mixers feature a 4-point scale that helps improve accuracy, compared to a 3-point scale. The scale helps operators optimize rations and achieve more defined targets when feeding in multiple pens. Plus, scales are equipped with Bluetooth connectivity, so operators can view weight from their smart device.
Built to last
Built with abrasion-resistant, heat-treated AR200 steel, the screw is designed for strength, versatility and longevity. Plus, two bi-pulse legs and the leading edge of the screw work together as three points of contact with the tub floor help to maximize cleanout and distribution of feedstuffs into the bunk.
Feed wagons
Simplicity and flexibility meet. A strategic design makes Vermeer feed wagons a good fit for operators looking for a wagon that is efficient to use and maintain. These machines are an economical option that still allow the flexibility to blend rations with various ingredients and effectively distribute a consistent ration.
BF-series feed wagons for diets with up to 20% roughage
With two options for discharge, these machines are versatile for multiple operations. Operators can choose a conveyor if they are feeding up to 20% roughage, or an auger if the operation is feeding mostly silage, grains and supplements.
HF-series feed wagons for high-roughage diets
These models allow operators to feed pre-cut forages, byproducts, silage and grains. When layered evenly into the box, feed ingredients are agitated as they progress through the beaters and will tumble down into the high output discharge conveyor — achieving a certain amount of blending of feedstuffs.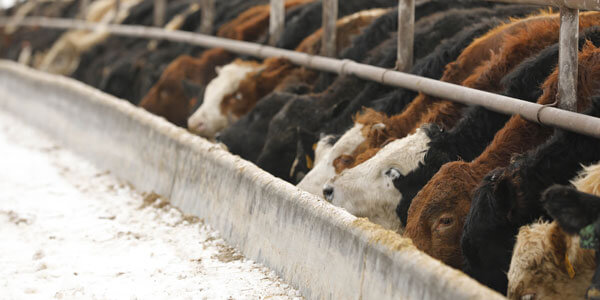 Vermeer feeding solutions in action
Information noted above was gathered from a third party who was advised his/her experience might be featured in marketing materials. This page contains third-party observations, advice or experiences that do not necessarily reflect the opinions of Vermeer Corporation, its affiliates or its dealers. Individual results may vary based on care and operation of machine and crop and field conditions, which may adversely affect performance.
Vermeer Corporation reserves the right to make changes in engineering, design and specifications; add improvements; or discontinue manufacturing at any time without notice or obligation. Equipment and depictions shown are for illustrative purposes only and may display optional accessories or components specific to their global region. Please contact your local Vermeer dealer for more information on machine specifications.
Vermeer and the Vermeer logo are trademarks of Vermeer Manufacturing Company in the U.S. and/or other countries.
© 2021 Vermeer Corporation. All Rights Reserved.