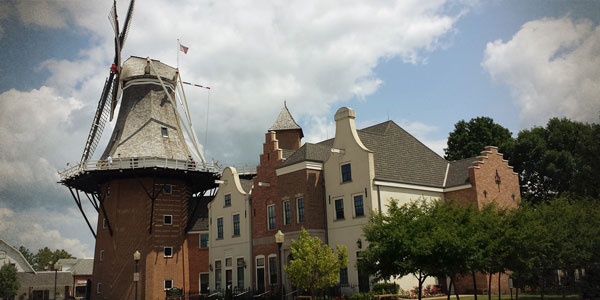 Our hometown
Located in Pella, Iowa, USA, Vermeer is committed to the areas where we do business, but also to the communities our team members call home. You might be wondering, why Pella?
It wouldn't be the first time we've gotten that question, but you'd be surprised what our HQ's stomping grounds has to offer. While Pella has the benefits of a small town, it also offers big quality of life advantages that make us proud that it's our hometown and the place where Vermeer first opened its doors.
So what makes it such a great place to live? Well, it depends on who you ask. Some would say it's our ranking in the top 3 of Iowa's "Best Towns for Young Families," a title we earned because of our excellent school systems, state-of-the-art healthcare and various opportunities to go out and get some fresh air. Others would say it's thanks to our bustling downtown, with a theater, restaurants and unique places to shop. Our brand new Pella Sports Park doesn't hurt either.
If you're more the "outdoorsy-type," you'd probably favor with those who think Lake Red Rock, Iowa's largest lake, is our greatest asset. There, you'll find trails, boating, camping and beach access - in other words, "the perfect place to enjoy time off." Looking for something beyond what Pella has to offer? We've got you covered. Our close proximity to metro areas such as Des Moines present alternative opportunities for things to do. Our "middle-of-the-country" status has its perks as well, since it places us up close and personal to large urban areas such as Minneapolis, Chicago, Kansas City and Omaha, all of which have plenty to offer in terms of things to do and sights to see.
Now that we've cleared that up, you're probably wondering why a key manufacturing player like Vermeer made small town Iowa its home, but personally, we think that speaks for itself. At Vermeer, we get work done and that means we thrive in areas that are progressive and productive. Our centralized location acts as the gift that keeps on giving – this time, setting us up with access to many Iowa communities that are ranked in Forbes Magazine's Best Places for Business. Marion County also ranks 46th out of 3,141 counties in the United States for having the highest percentage of all jobs in manufacturing, which gives us the support and manpower we need to keep doing more.
Just when you thought it couldn't get any better…Iowa's first-in-the-nation Presidential caucus and right-to-work status is definitely something worth noting. As a vibrant business in a vibrant community and state, we create a template that governmental leaders want to replicate, allowing Vermeer a strong voice and presence in the legislative environment.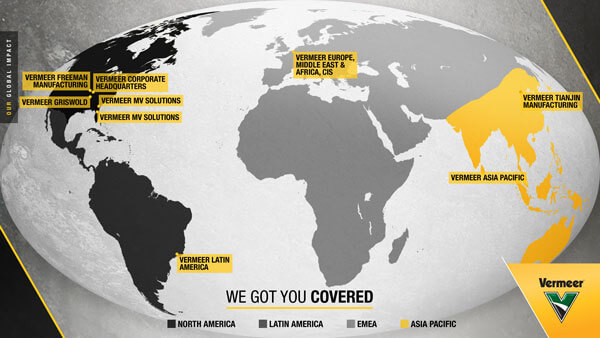 Our global presence
From Pella, Iowa, USA to the Asia Pacific region to dots on the map in between, Vermeer impacts progress in more than 60 countries. Every jobsite from Detroit to Dubai is unique, and our nearly 3,000 team members located at manufacturing facilities and regional offices around the world help provide customers with the products, services and support needed to get tough work done.
Vermeer EMEA (Europe, Middle East, Africa and CIS)
Vermeer International B.V. - Goes, Netherlands
In Goes, the Netherlands, our Vermeer team oversees the sales, support and distribution of a wide variety of Vermeer construction, infrastructure and landscape equipment. The Goes office serves Europe, as well as the Confederation of Independent States, the Middle East and Africa.
Nijverheidsstraat 20
4458 AV 's-Heer Arendskerke
the Netherlands
Phone: +31 113 272700
Vermeer Asia Pacific (Asia Pacific, Australia Asia, China, Pakistan and India)
Vermeer Asia Pacific, PTE., Ltd. - Singapore
Located near Asia's busiest seaport, the Vermeer Singapore office is a constant hub of sales and support activity, as Vermeer construction, agricultural and infrastructure equipment is provided to Australia, New Zealand, China, Pakistan, India and many other Asian nations.
545 Orchard Road
#12-06
Singapore 238882
Phone: 65-6516 9560
Vermeer Latin America
Vermeer Equipamentos e Tecnologias Ltda. - Valinhos, SP Brazil
Latin America is served by a regional office located in Valinhos, Brazil that provides sales, service and parts support for both Vermeer customers and dealers. The office plays an integral role in helping to develop new products and solutions designed specifically to fit the needs of our customers in that region.
Rua Francisco Juliato, 79
Vale Verde - 13279-000
Valinhos, SP - Brazil
Phone: +55-193517-9400
Vermeer China
Vermeer Tianjin Manufacturing Co., Ltd. - Tianjin, China
No. 11, Guwang Road
Jingbin Industrial Park
Wuqing District
Tianjin, China
Phone: +86 010 59646800
Vermeer Corporation – Freeman location
Freeman, South Dakota, USA
420 U.S. 81
Freeman, South Dakota, 57029, U.S.A.
Phone: 605-925-4512
Vermeer Corporation – Griswold location
Griswold, Iowa, USA
63724 Richland Road
Griswold, Iowa, 51535, U.S.A.
Phone: 712-774-2228
Vermeer MV Solutions
Piedmont, South Carolina, USA
7835 Augusta Road
Piedmont, South Carolina, 29673, U.S.A.
Phone: 1-864-277-5870
Okahumpka, Florida, USA
27137 South Highway 33
Okahumpka, Florida, 34762, U.S.A.
Phone: 1-888-822-8766