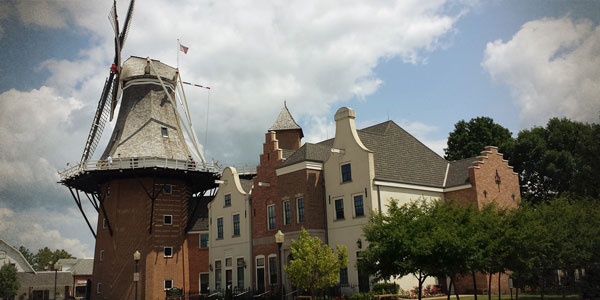 Vermeer Corporation
Headquartered in Pella, Iowa, U.S., Vermeer team members design, manufacture and support high-quality industrial and agricultural equipment that helps connect people to the necessities of life, manage natural resources and feed and fuel communities. We are committed to the areas where we do business, but also to the communities our team members call home.
Dutch immigrants founded Pella in the 1840s and that unique history is replicated in the architecture, landscape and community events. This includes Tulip Time, a popular Dutch Heritage Festival, held every spring.
Pella, Iowa, has excellent school systems, state-of-the-art healthcare and various recreational opportunities. We have a vibrant downtown, with a theater, restaurants and unique places to shop. Lake Red Rock, Iowa's largest lake, is just outside of town. There, you'll find trails, boating, camping and beach access.
With Iowa's capital and largest city—Des Moines—a short 40-minute drive away, you have quick access to everything a larger metropolitan area can offer. But you'll also experience the high quality of life and low cost of living available in a smaller city. Pella is also not far from large urban areas such as Minneapolis and Chicago; Kansas City, Missouri; and Omaha, Nebraska, all of which have plenty to offer in terms of things to do and sights to see.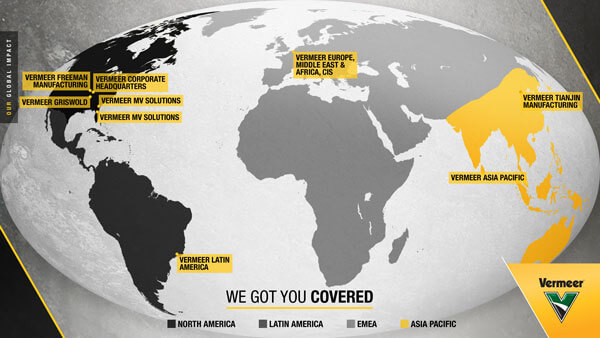 Additional locations throughout the United States
Vermeer Freeman
Vermeer Corporation acquired what is now known as Vermeer Freeman in 2009. Formerly known as Wildcat Manufacturing, the Vermeer team in Freeman designs, builds and supports many products serving our environmental markets.
Freeman, South Dakota, is home to beautiful green spaces, stellar skyscapes and friendly people. With a well-rounded assortment of quality businesses and an abundance of music, arts and sports activities, the community of Freeman has plenty to offer.
Established in 1879, the city of Freeman is currently embarking on a new wave of development. Conveniently located near Yankton and Sioux Falls along U.S. Highway 81 and near Interstate Highway 29 and Interstate Highway 90, it's well-suited for commuters.
Vermeer Griswold
Vermeer Corporation acquired what is now known as Vermeer Griswold in 2019. Formerly known as Schuler Manufacturing, the team in Griswold, Iowa, designs, builds and supports high-quality feeding solutions with total mixed ration (TMR) mixers and feed wagons.
Griswold, Iowa, is a small community of more than 1,000 residents surrounded by rich Iowa farmland providing an affordable community to live in. The community and surrounding Cass County embraces family values, hard work and progress, making it a great place to work and live.
Vermeer MV Solutions, Inc.
Vermeer MV Solutions is made up of teams in Piedmont, South Carolina, and Okahumpka, Florida. Originally McLaughlin Group and Vac-Tron Equipment, respectively, Vermeer acquired these businesses and McLaughlin and Vac-Tron merged and changed their name to Vermeer MV Solutions in 2018. These teams design, build and support vacuum excavation products.
Piedmont, South Carolina, boasts new housing developments and commercial areas that include a brewery, restaurants and retail, and a trail system with public river access and kayak landing. The newly constructed Vermeer MV Solutions facility is just a quick drive from the lively city of Greenville, South Carolina.
Okahumpka, Florida, is about 25 miles from the Atlantic coast. This small town is known for its family-friendly environment, nearby lakes and affordable housing.
International locations
Vermeer Europe, Middle East, Africa and CIS (EMEA)
In Goes, Netherlands, our Vermeer team oversees the manufacture, sales, support and distribution of a wide variety of Vermeer construction, infrastructure and landscape equipment as well as a Parts Distribution Center. The Goes office serves Europe, the Commonwealth of Independent States, the Middle East and Africa.
Vermeer Asia Pacific (Asia Pacific, Australia, Asia, China, Pakistan and India)
Located near Asia's busiest seaport, the Vermeer Singapore office is a constant hub of sales and support activity, as Vermeer construction, agricultural and infrastructure equipment is provided to Australia, New Zealand, China, Pakistan, India and many other Asian nations.
Vermeer Latin America
Latin America is served by a regional office located in Valinhos, Brazil, that provides sales, service and parts support for both Vermeer customers and dealers. The office plays an integral role in helping develop new products and solutions designed specifically to fit the needs of our customers in that region.
Vermeer China Limited
Our Vermeer team in China develops, manufactures, sells and supports products that are tailored to meet unique, emerging-market customer needs.
Dealer network
Vermeer equipment is sold through a robust network of more than 600 industrial and forage dealers around the world. They help give our customers the local confidence they need to get their important work done.