PELLA, Iowa / Oct 20, 2020
Automation has helped keep team members safe and remove waste from processes in the plants at Vermeer. However, the automated guided vehicles (AGVs) were damaged in the tornado to the point that they had to be decommissioned. We're excited to share the next generation of automation at Vermeer – autonomous mobile robots (AMRs).
Robotics continue to drive innovaton in manufacturing at Vermeer
From welding robots that complete tedious and repetitive weld tasks on the shop floor to automated guided vehicles (AGVs) that move heavy carts, automation has helped keep team members safe and remove waste from processes. Vermeer's journey with AGVs began in 2016 when two units were installed to carry carts between Plants 6 and 7. However, after the July 2018 tornado took out Plants 5 and 6, the AGVs and the infrastructure to support them in Plants 6 and 7 were damaged to the point that they had to be decommissioned. We're excited to share the next generation of automation at Vermeer – autonomous mobile robots (AMRs).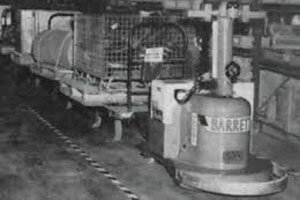 Before we get into that, here's a quick rundown on the history of these handy cart-moving robots and the technology behind them. AGVs have been around since the early 1950s – back then, they were guided by a set path of wires on the floor. AGVs continued with methods like wire, tape lines and painted lines for the next 60 years. Within the past 15 years, they've adopted much of the same technology now used in self-driving cars. This navigation allows AGVs to detect when an obstruction is in their path, causing them to stop. However, they ultimately still follow a fixed path.
AMRs – which are used today in Plant 4 – follow a fixed path, but they can also make basic decisions. Where an AGV would see an obstruction and stop, an AMR can find a way around the obstruction. This is thanks to their navigation, which reads the contours in the immediate environment to figure out its location in the plant, unlike the AGVs in Plants 6 and 7 that relied on reflectors and pushbuttons placed along a specified route to navigate.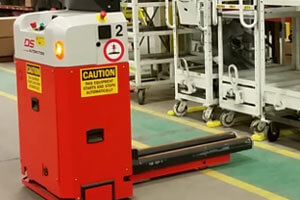 The AMRs in Plant 4 currently use this laser-based navigation – called natural navigation – to bring parts from central receiving to the assembly line. While these robots have a good capacity, they can only be reprogrammed by the manufacturer if we need them to change their route. As we know, our journey of continuous improvement can lead to frequent changes.
---
Fun fact: In 2019 alone, the AMRs in Plant 4 made more than 4,000 deliveries!
---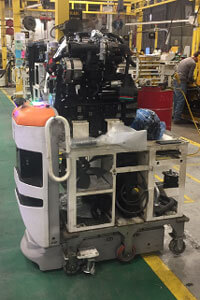 As we start to invest in automation for Plant 7, we're looking at a new generation of AMRs. These new, versatile units can move pallets, stacked carts, flat carts and more. Like the AMRs in Plant 4, they'll use laser-based, natural navigation. However, these units can be programmed by our engineers onsite with a tablet and can find entirely new routes through the plant when their path is blocked. We're planning to invest in four of these units for Plant 7 to serve nine of the 11 assembly lines in the main production facility.
---
Fun fact: The navigation lasers on our current AMRs scan 800 points per second, while the new ones will scan nearly 80,000 points per second. This allows the robot to see with more clarity – think about it like your grandma's old tube TV compared to a new 4K LED TV.
---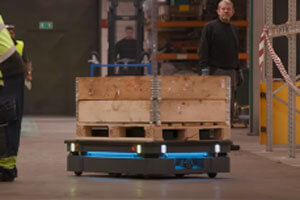 AMRs have three major impacts:
Reduce fork truck traffic in the main aisles. By reducing the need to have fork trucks moving heavy carts from central receiving to team members on the line, AMRs help lower the level of fork truck traffic in main aisles where team members walk. The reduction in fork truck traffic not only reduces the amount of crowding in the plants but can also improve safety by reducing the instances where fork trucks share pedestrian aisles.
Helps improve safety and the team member experience. AMRs are used in areas where heavy carts may reach up to 900 pounds (408 kg). Not only are they saving team members from having to push those heavy loads, but they also free up material handlers to do value-added work like picking parts instead of pushing carts.
Agility. These new models of AMRs allow for in-house programming. This means we can be agile as line layouts and needs change. It's simple to remap for the facility they serve and even to move them to different plants as seasonal needs change.
On the next generation of AMRs, Manufacturing Engineer Justin Van Soelen said, "We're really excited for the flexibility of these. We've had to wait on programming and changes in the past. The fact that these new units will allow us to be very nimble in terms of how we serve the needs of team members has us very excited!"
These new AMRs will hit the floor in early 2021 as Plant 7 moves are complete and the new facility is mapped out for the robots.