PELLA, Iowa / May 17, 2021
At Vermeer, we're passionate about helping our team members learn and grow. We're excited to celebrate the recent graduation of Welder Dino Longi! Read his story.
Plant 2 Welder Dino Longi recently graduated from Indian Hills Community College. He started his career at Vermeer as an intern and was soon hired on full-time.
"My favorite part about my job is everybody here makes you feel just like family or a friend," shared Dino. "I haven't known anyone here for a long time, but it feels like I have. They always make me happy and smile all the time."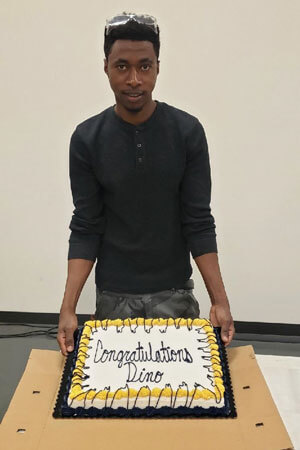 Dino is from Eritrea and came to the U.S. in 2017 after spending time in a refugee camp in Ethiopia. He chose welding as it was a trade he could learn quickly even though English is not his first language. Dino now enjoys welding on 2nd shift in Plant 2 on baler chambers. He especially appreciated the weld training program when he first joined the team.
"I like the weld training program - it's so perfect," said Dino. "School was helpful for basic stuff, but when I got here, I learned a lot of stuff I didn't know before. When you get to the line, they teach you everything that you're going to do."
"Dino was one of the best interns we've ever had," said Production Area Manager Matthew Rustia. "We're excited to have him on the team full time."
Congratulations, Dino! We are proud to have you on the Vermeer team.