Check out the Vermeer glossary of agriculture, industrial construction terms
Get definitions of key industry terminology, acronyms
What does it mean? What does that acronym stand for? Why is it important? Learn more about industry agriculture and industrial construction-related terminology featured in our glossary of terms.
Company ID
A Company ID is the number or other designation used to uniquely identify an organization, such as a corporation, limited liability company, partnership, sole proprietorship or other legal entity, which is assigned by the government under which the organization was formed. In the United States, an organization's Company ID is its Employer Identification Number (EIN), sometimes referred to as a Tax Identification Number (TIN). In the European Union, an organization's Company ID is generally its Value Added Tax Identification Number (VATIN or VAT-ID). "Company ID" does not refer to an individual's Social Security Number or Taxpayer Identification Number.
OEM
Original equipment manufacturer
Operator
A person installing, operating, adjusting, maintaining, cleaning, repairing, or moving a product.
Product attachment
A partial assembly which cannot perform a specific application until it is incorporated into or assembled with other machinery.
VIN/PIN
A VIN stands for vehicle identification number (VIN) or is also known as a product identification number (PIN). It is the identifying code for a specific on-road vehicle or off-road machine. The VINPIN serves as the machine's fingerprint, identifying it individually. VIN/PINs are unique to a specific machine.
How many digits are in a VIN/PIN?
A VIN/PIN for a Vermeer branded product is composed of 17 characters (alpha numeric, consisting of digits and capital letters) that act as a unique identifier for one machine. A VIN/PIN code includes indicators of the machine's model, features, and manufacturer. The VIN/PIN is used to track equipment ownership, product field campaigns, warranty claims and more.
Where is the VIN/PIN located on a Vermeer machine?
The specific location of the VIN/PIN can vary by Vermeer machine model, but generally can be found:
on an embossed metal black/silver plate affixed on the machine's frame usually on the right side towards the front of the machine or near the operator's station;
engraved/stamped into the frame usually on the right side towards the front;
on a machine identification decal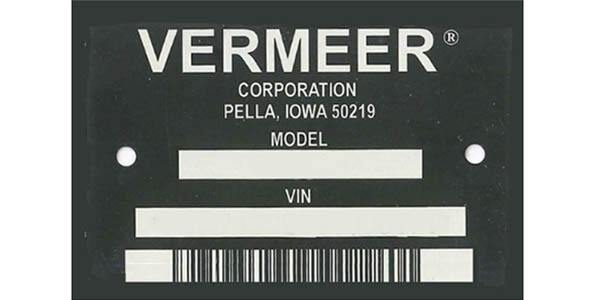 Contact Vermeer