Do More:

at work, in life, for othersApply now
Equipped to Do More® at Vermeer
Vermeer Corporation manufactures iconic yellow iron seen on industrial jobsites and farm fields worldwide. Around the world, more than 3,500 Vermeer team members are rolling up their sleeves to design, build and support tough yellow iron. We are steadfast in our commitment to safety, as well as finding, training and developing a workforce built for the future. Our influence is real and felt around the world. Vermeer machines are made to equip our customers to do more across a diverse group of important markets. Proud to be a family-owned and -operated company headquartered in Pella, Iowa, Vermeer serves as a leading example of successful family business. With a strong foundation deeply rooted in our 4P Philosophy of principles, people, product and profit: we put others first, we build quality equipment and we give back.
How to join the team
Health

Health, dental, vision and more are available to Vermeer team members as you pick the package that makes the most sense for you and your family.

Support

We all need help sometimes. Talk about it. Chaplains and health coaches are dedicated to listening, supporting and connecting you to the right resources at the right time — day or night, 24/7.

Finances

We all have goals. Meet your goals with help from financial coaches, versatile 401(k) options, retirement planning and more. We're here to help you achieve the freedom to make your money work for you now and in the future.

Time off

Everyone needs downtime. Paid time off (PTO) allows you to schedule time away from work for vacation, personal health and well-being needs and unexpected life events. Whatever the reason, you prioritize how you balance time between work and life to fit your lifestyle.

Knowledge

Be a lifelong learner with free workshops to help you expand your knowledge, stay current in your discipline and continue to learn as your career progresses. Vermeer also offers tuition assistance for two- or four-year degrees to improve on skills for your current position or prepare yourself for future opportunities.

Family

As a family-owned and -operated company, we know family comes first. We assist you with adoption-related expenses for your growing family. We also share with and encourage you to enjoy family activities and experiences throughout the year.

Culture

We pay you to take time off to give back with volunteer time off (VTO). Eight paid hours a year can be spent focused on a cause that matters to you. And when your teammates are down, you can lend them a hand with The Vermeer Cares program which allows you to donate money or paid time off (PTO) to a teammate in need.

Pella

You have access to our onsite STEM-based early learning facility, which is open to kids ages six weeks to fifth grade. We have an onsite clinic, pharmacy and health coaches as well as a trail connecting our Pella campus to provide an easy way to get active during your workday.
"I absolutely love third shift at Vermeer. I like the hours, I like the group I work with, it's quiet and it works for me and my family."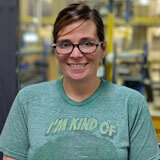 Danielle Bennett
Inventory Coordinator Group Leader